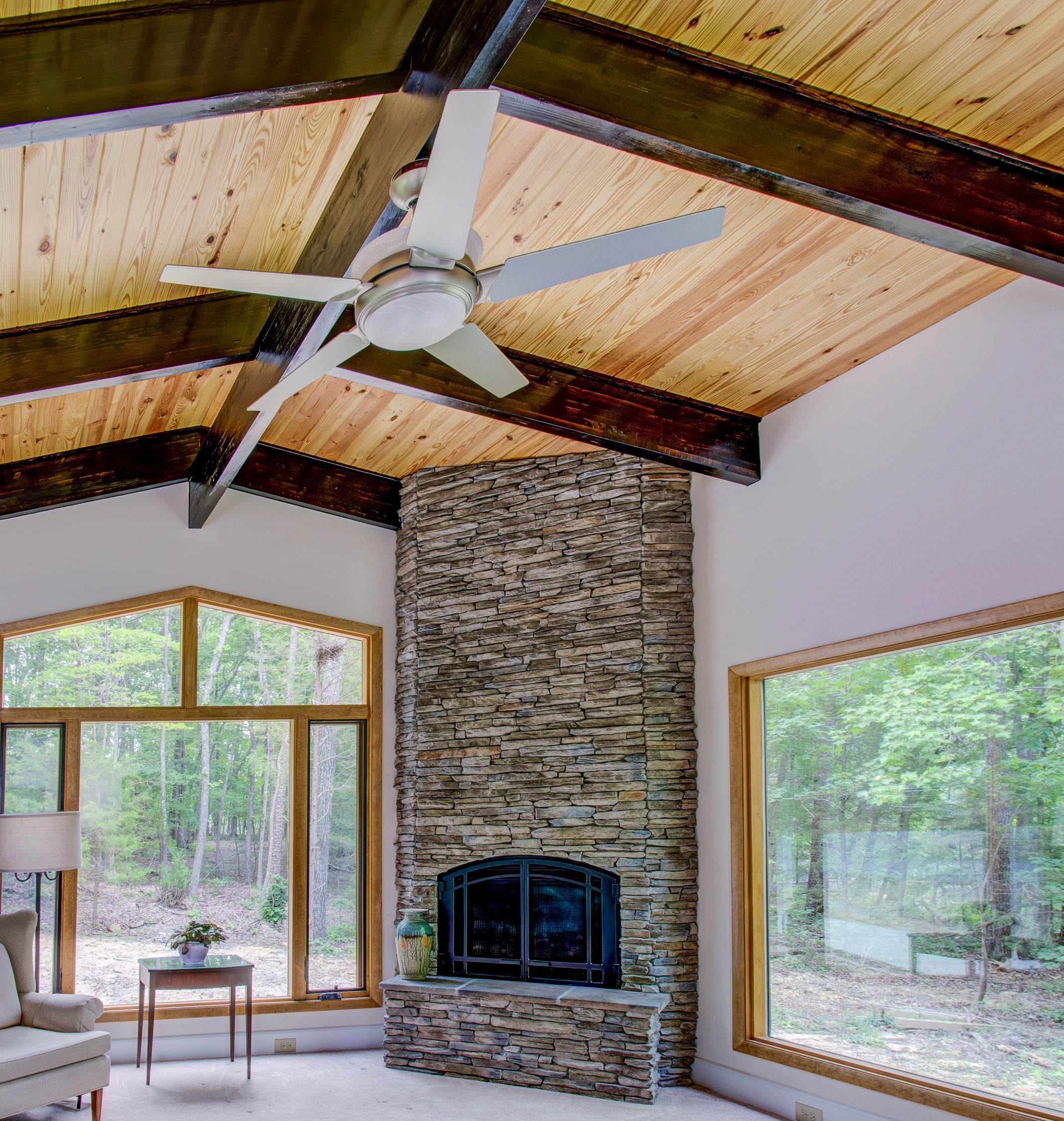 June 7, 2020
Hillsborough Remodeler Wins Best Addition in Orange County NC
The Home Builders Association of Durham Orange & Chatham Counties (HBADOC) announces Hillsborough Remodeler, Collins Design-Build has been awarded the Remodelers Outstanding Construction (ROC) Award for Best Green Remodel.
As a Hillsborough Remodeler, I was first called out to the home of our potential clients out of a plea from their daughter. They had hired "two guys in a truck" to remodel a kitchen dinette on one end of their home to create an In-Law Suite they were planning on moving into. I remember the apologetic "sorry for not calling a licensed contractor first" guilt feeling from the tone in her voice when we scheduled our initial site visit to review.
They met me at the front door inviting me to have a seat in the living room prior to viewing the areas under construction.  She sat me down and gave me the full details of the "how we got to this point" speech.  I assured her that I was not there to judge and only wanted to help. Her voice is soft and warm but yet I felt pressure and stress in her voice.
As we walked to the under construction area I observed a ceiling partially removed and a section of unfinished really thin drywall installed over the popcorn ceilings. Some cabinets were hung on the wall, others in boxes. There was a stack of drywall leaning against the bay window.  Wires were hanging everywhere.  I asked if there was a permit. They did not know for sure. But she did know that they paid the contractor for improvements not yet realized and to this point all they have to show for it was a mess.
I immediately made recommendations to get the county inspector involved and get a licensed electrician out to alleviate the shock and fire hazards. No strings attached and at no profit, I oversaw the correction of the blatant disregard of the building code.
They were so relieved. They asked if I would consider overseeing the addition and improvements of the In-Law Suite they wanted to create so they could have their Daughter and her Husband move in with them. I suggested we contact a local Engineer and create a design.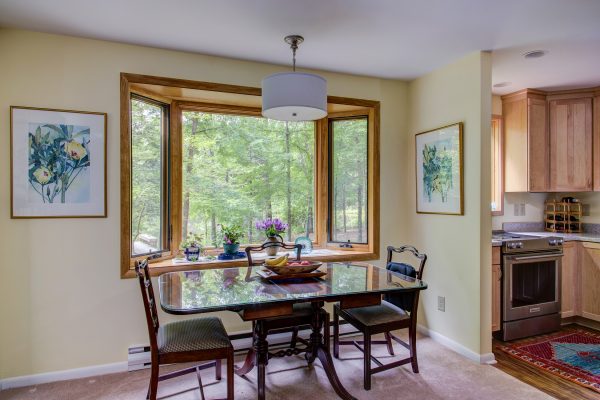 However, this was no normal addition. The home was on a monolithic concrete slab and the ceiling was post and beam. The exterior siding was vertical cypress. A build like this, while small in total square footage is quite complicated.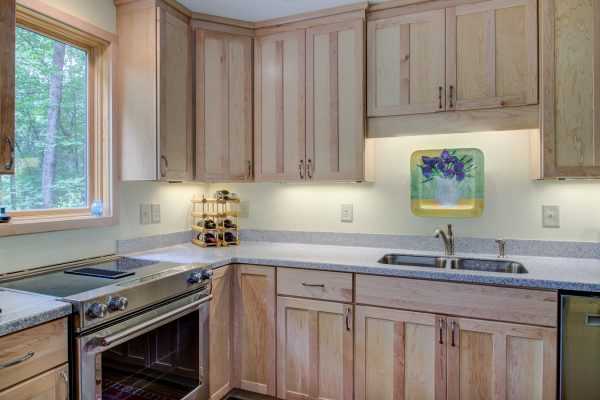 After plans, job scope and selections, I was selected as their Builder and I was so honored to be a part of such a unique and awesome project. I was able to incorporate Aging-In-Place Principles in the design process. I was able to maximize energy efficient features such as using ductless heating and cooling systems.
I became a member of the family for the brief time we were working on the improvements. I am so excited to be able to share with you the project we now call the room with a view.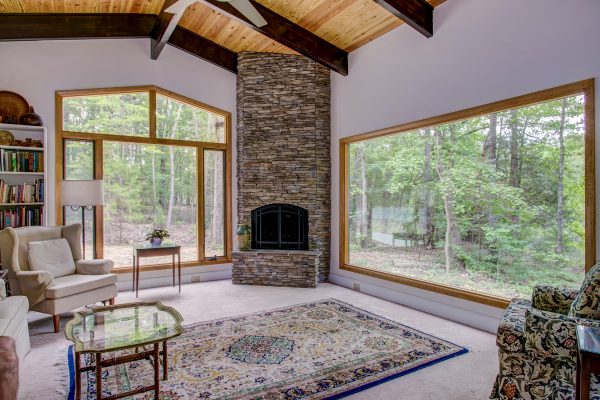 Site Challenges:
Impervious Surface Restrictions
Watershed Restrictions
Drainage
Existing Trees and plantings
Construction Challenges:
Tying Room Addition into Existing
Designing Roof lines that do not block natural light into existing
Matching existing shingles and siding
Exposed beams and tongue in groove ceilings (how to insulate)
In the end, we created a wonderful living space that includes a master suite and full bath, an office with its own full bath, a full kitchen and dining room, a new private entrance and an awesome family room with windows galore!
Collins Design Realty Broker In Charge, Emilee Collins notes that your home puts up with a lot. It withstands inclement weather, endures the occasional stained carpet, clogged drain or broken window, and it even tolerates the smell of your burnt popcorn. So it deserves a little love once in a while, and there's no better time to show it than now. If you are looking for homes for sale in Hillsborough NC contact Emilee Collins at www.collinsdesignrealty.com
You don't need to spend a lot of money on new appliances or significant renovations to show your home that you care. There are many simple ways to show your home some love. Here are a few suggestions.
Shed Some of that Extra Weight
Do you really need to hold on to all of those 1980s leisure suits you'd hoped would come back in style? You don't have to wait for spring to roll around to get rid of the junk that may be piling up in your coat closets, basement or garage. Lighten the load throughout your home and it will seem bigger and significantly cleaner. Plus, spring cleaning won't be nearly as intimidating when that time comes.
Get Some Sun
Winter doesn't have to be dreary. Sure, the trees may be bare, but that just means less foliage is blocking the sun. Do your home and yourself a favor and let the sunlight in. Pull back (or take down) the drapes, wash the windows, and maybe even swap out dark lampshades for brighter ones to make the inside of your home cheerier.
Scrub it Down
Your appliances work hard for you every day so it's time to give them a thorough cleaning, especially if you haven't done so recently. Refrigerators especially need a little extra attention on a regular basis. Start by taking everything out, then, be selective about what you put back. Also, check to see if any of your appliances might still be under warranty with a service plan to cover any maintenance that will keep them running smoothly.
Spruce it Up
One of the most economical updates you can give your home is paint. Whether it's a bold new color, or just a fresh coat, painting a room or even just an accent wall can breathe new life into any space. Winter months can sometimes limit interior painting opportunities if it's consistently too cold outside to open windows for ventilation. Plan ahead by checking the weather reports to find a day that might work.
Buy a Bouquet
If you're not doing any gardening on the outside of your home, bring some flowers inside. A blooming bouquet instantly warms up a room during cold winter months. Check out the flower section of your local grocery store to find festive flowers at reasonable prices.
About The Builder: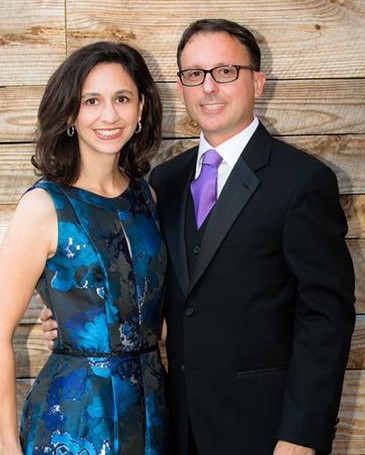 Chad & Emilee Collins
An unlimited licensed general contractor as well as a licensed home inspector, Hillsborough NC custom home builder Chad Collins transforms clients' dreams into elegant, fashionable, timeless homes while maintaining a reputation for skilled craftsmanship, superior quality, and incomparable client service. Collins Design-Build is consistently ranked by the Triangle Business Journal as one of the top custom home builders in the Triangle.
Chad's commitment to excellence has earned Collins Design-Build numerous top industry awards, including the National Certified Green Professional Builder of the Year, the Durham, Orange & Chatham Counties Home Builder of the Year, and twice awarded the coveted Triangle Sales and Marketing Council's MAME Building Company of the Year. Chad is one of fewer than 50 Accredited Master Builders in the state of North Carolina.
From the outset of his career, Chad quickly impressed others with his professionalism, integrity, and astute operations management skills. While in high school and college, Chad worked part time with home improvement retailers and building material suppliers, which opened opportunities to work for regional and national home builders throughout much of the 1990s. Chad capitalized on these experiences with local and regional builders to acquire considerable industry knowledge and to forge strong relationships.
Earlier in his career, Chad served as a team leader to local and regional production home builders, distinguishing him by developing processes, tools, and quality-driven teams that improved ROI, cut annual costs, reduced project completion time, and decreased attrition. As a result, Chad advanced to increasingly through management positions. Evidence of his talent for coaching and leading teams is that several of his team members and craftsmen he developed relationships with decades ago continue to work with him to this day.
Following that success, Chad was recruited by a national builder opening operations in the Triangle, and he played an important role in helping the company establish operations with a market presence in the region. His efforts in closing just under $6,000,000 in custom homes in a single year earned Chad the 2001 Builder of the Year award.
Chad has earned the highest designations available, such as Accredited Master Builder, Master Certified Green Professional, and Aging-in-Place Specialist. Among other industry recognition's, the company has received multiple Best Green Built Home NCHBA STARS Awards, Major Renovation Awards and the coveted Parade of Homes GOLD Award.
Prior to being elected as the President of the Home Builders Association of Durham, Orange & Chatham Counties, serving over 600 members, Chad was nominated to a five-year term with the North Carolina Home Builders Association as regional vice president; serving the largest territory region in the nation. Chad was elected as the Board of Directors President of the Hillsborough/Orange County Chamber of Commerce 2019 and 2020.
Throughout his career, he has served on various boards of directors and has earned numerous top awards for membership recruitment from the Home Builders Association of Durham, Orange, and Chatham Counties; the North Carolina Home Builders Association; the National Association of Home Builders; the Triangle Community Coalition; and the Hillsborough/Orange County Chamber of Commerce. In 2018 North Carolina Governor appointed Chad to the North Carolina Home Inspectors Licensing Board as Treasurer.
Chad is honored to be an approved speaker for the National Association of Home Builders Chad has written and taught several courses on green building as well as project management to fellow builders across the Southern United States. He has also instructed for Duke University's OLLI Continuing Education Program, serving as the Aging-in-Place Specialist. The North Carolina Licensing Board For General Contractors recognizes Chad as an approved Continuing Education Instructor.
For more information and how Hillsborough NC Collins Design-Build may serve you please connect with us through the following:
Home Building/Remodeling/Additions/ Consultations:
Collins Design-Build, Inc.   www.collinsdesignbuild.com
To find a lot or land / Buy or sell existing Real Estate:
Emilee Collins, REALTOR  www.collinsdesignrealty.com
To learn more about Aging In Place or how to make your existing home accessible:
Planning Tomorrow  www.planningtomorrow.com
Have your existing home painted by our award winning professionals:
Acento Painting, LLC  www.acentopainting.com

Chad direct line 919-422-2818  | Chad's Email chad@collinsdesignbuild.com

Tags: contractors in hillsborough nc, hillsborough contractor, Hillsborough nc remodeler, Hillsborough remodeler, remodeler in hillsborough


Categorized in: Awards, Collins Design Build News

This post was written by Collins Design Build