What Our Clients Say About Us
"A really excellent experience with Chad Collins Builder: a full custom-build, quite ambitious and definitely not a standard design. Chad's communication and transparency were perfect. Very importantly, his subs were folks that he'd worked with for decades, and they performed to very high standard. The house fully met and exceeded our expectations. Highly recommended." – The Toby Family, Hillsborough NC

"When we decided to move to North Carolina from Georgia, we knew it was important to work with a trustworthy builder. We could only check on the progress of our home every two to three weeks. Every time we drove to North Carolina, Chad Collins met us at the house and went over every detail of his quality workmanship. He listened to us and made suggestions based on his years of experience. Now that we are living in our new home, we couldn't be happier with everything. I highly recommend Chad Collins. He is a builder that can be trusted and that is hard to find sometimes. We consider him a friend and someone we can call on for any needs in the future." – The Bartlett Family, Rougemont NC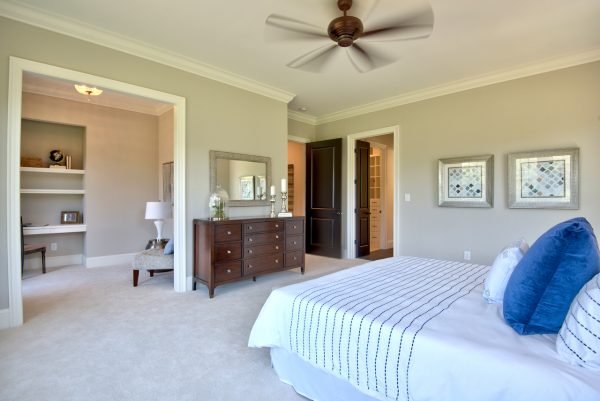 "Collins Design-Build is phenomenal! Emilee will help you find the perfect property, and Chad will build you a work of art. When people walk up to our house, they just stand there and say "Wow." If you want to turn a dream into reality, call Chad. He can make it happen." – The Rutherford Family, Durham NC
"We hired Chad to build our contemporary home. Chad went above and beyond to earn our business, from giving us advice on our lot to helping file the initial environmental permit application even before we had formally signed on with him as our builder. Our interactions with him during the construction process were flawless; he was responsive to our inquiries and requirements, and transparent with any challenges that arose along the way. We appreciated his attention to detail, and we learned very quickly to trust him to take care of the minutiae and to involve us in any big decisions. Also key to success is Chad's long standing network of craftsmen that are not only experienced in working with each other, but also have the same commitment to quality. We would not hesitate to recommend Collins Design-Build to anyone looking to build a custom home." – The Hawk Family, Hillsborough NC
"Chad Collins built our retirement home this past year and we are very pleased with the result. He patiently guided us through the project from start to finish and was always prompt and courteous in addressing any concerns we might have.
Chad is passionate about his profession and always strives to maintain the highest standards and workmanship. We highly recommend Chad and Collins Design-Build." -The Lynch Family, Durham NC
"If you are in the market to build or remodel a home, look no further. Chad Collins of Collins Design-Build is your guy! We recently completed a custom built home with him in October and could not be more pleased!
After visiting his website and meeting both he and his wife, we were sold. Both could not have been more welcoming. I loved the way he explains the entire process, start to finish. He and his wife, Emilee Collins a licensed real estate agent, even helped us sell our current home. When you work with Chad, you know that he wants to build a home you will love.
He went above and beyond, helping us find an appropriate lot, obtaining plans, revising them, and then beginning the actual build. He even provides you with a monthly timeline so you know who is doing what and when. Chad was always available for my numerous questions. He would offer suggestions and truly listened to my requests. He also provided his expertise and his suggestions. It was a very comforting feeling knowing he was in control, when we had no experience in building a home.
All of his vendors were so helpful. They made choosing selections as stress free as possible. The craftsmen Chad uses were top notch. I was very impressed with the talent and professionalism of all of the individuals I worked with. I knew that I was getting not only a beautiful home, but also a well built, quality constructed home. The standards he set were those he would require in his own home.
Chad builds beautiful homes that will stand the test of time. The energy efficiency is superb. The quality construction is second to none. Choose Collins Design-Build for your next home. You will never second guess your decision! We would recommend him to everyone building or remodeling.
We began this journey as strangers, and we are now proud to call him our friend. " -The Twisdale Family, Hillsborough, NC
"Thank you for making such a beautiful space for our family to enjoy! We love it." – The Tewell Family, Hillsborough, NC
"We bought our home because of the location and the confidence that Chad could take our vision for the home and make it a reality. His professionalism and attention to detail delivered a final product that exceeded our expectations. Chad works with highly skilled craftsmen who were a pleasure to have in our home. Chad's adherence to the proposed timeline and budget was most impressive to us. We look forward to working with Chad on future projects." -The Nalley Family, Hillsborough, NC
"We have really enjoyed working with Chad. He has been easy to work with and flexible. We had our basic plans and he made excellent suggestions which we accepted. The work was done professionally, with good craftsmen and excellent quality. The completed work stayed within the budget guidelines. We recommend him without reservation." – The White Family, Hillsborough, NC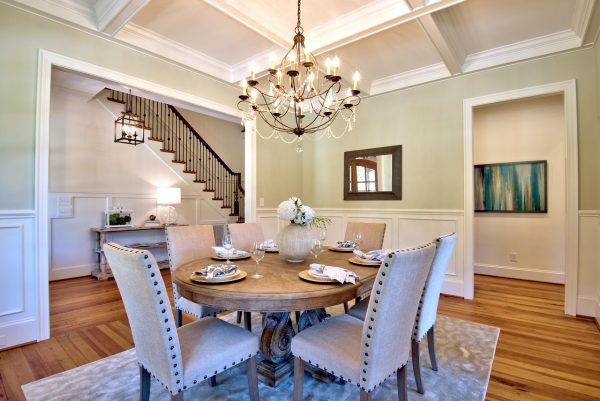 "Chapel Hill NC Builder Chad Collins built a custom home for us just outside of Chapel Hill. We moved in 2015. Chad did a really good job of staying on top of the project. He was always available to us if we had any questions or concerns. If we had any issues with a supplier, he addressed the issue promptly and communicated to us about the issue. We have been very satisfied with our home that he built, and we have been able to contact him about any questions since we have closed on the house. We would highly recommend him as a home builder to someone who wanted to build a home in this area." – The Mold Family, Chapel Hill, NC
"I hired Chad to update a very dated 1990s house. This included a bathroom and kitchen remodel, a major attic renovation including building a new staircase, installing a new HVAC system, additional insulation, and extensive rewiring. An addition, other areas were renovated including resurfacing floors, repainting, rewiring, and new low voltage wiring. Chad had an excellent work ethic and helped us to plan for completion within our budget while meeting our most important needs. Chad worked to meet the deadlines even as the scope of the project changed. Chad designed the refitted bathroom and master closet. Chad proactively communicated progress and followed through on any questions as they came up. In addition, Chad was always available to answer questions and provide updates by phone. I would definitely work with him again on future projects." – The Hyland Family, Chapel Hill, NC
"Chad recently completed our LEED, Energy Star modernist house. We are extremely pleased with his attention to detail which he employed in the project. He was very helpful, and available at any hour, in explaining and answering questions we had during the building process Chad was enjoyable to work with and has a great demeanor which is an asset if difficult decisions or problems arise during the construction." – The Isley Family, Durham, NC
"Chad used his left brain to work through the technicalities of the remodel, and used his right brain and creative vision to transform my house into a beautiful, artful home. He looked around and came up with imaginative solutions that made my home much more livable and a place I really enjoy. It was a marvel to see the transformation. I feel fortunate to be the beneficiary of Chad's vision." –The Broda Family, Pittsboro, NC
"The energy efficiency of the house has made it very comfortable through some very extreme weather and our energy bills have been remarkably low. I cannot believe how well we did on energy costs every month. The energy star rating of the home has really paid off. Truly, I haven't had energy costs this low in 20 years." – The Olde Family, Hillsborough, NC
"Mr. Collins REALLY knows his stuff! He pointed out what we needed to know for a quality and safe house. He told us what we needed and did not just cater to what we thought we wanted. He added insight so we could make informed and wise decisions." – The Sterling Family, Mebane, NC
"Chad not only is a quality individual but also completes quality work. After getting frustrated with a local handyman we hired Chad to finish the job. Boy, how we wish we started with Chad in the first place. He is fast, friendly, courteous, and dependable. I highly recommend Chad for his immense expertise, quality work and his outstanding character. – The Hadden Family, Hillsborough, NC
"Collins Design-Build crafted an addition to our existing home. We had an overall positive experience with Chad and his various crews. When there was an unexpected situation, he competently addressed it and kept us in the loop. We felt that he incorporated our opinions to create a space that we truly enjoy. We would recommend him for anyone who is looking for an original, high quality home. – The Leitner Family, Chapel Hill, NC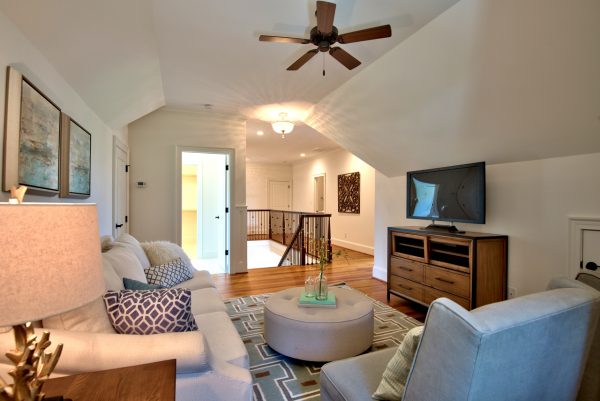 "We would gladly recommend Chad Collins (Collins Design-Build) to anyone looking to purchase a new home in our area." – The King Family, Hillsborough, NC
"From the beginning, working with Chad Collins was a great experience. We had heard from many people that building a home is a horrible experience and that we would hate our builder by the end of the process. For us, this is the farthest thing from the truth possible. Chad Collins has always made himself available to give us information and to answer questions (no matter how silly they were). He continually gave us updates and let us know what was going on with the building process. This is our first time building a home and we feel very lucky to have had Chad Collins to guide us through, we would definitely recommend him to family and friends." – The Turner Family, Hillsborough, NC
"Where another builder said no, Chad Collins said yes. Then he told us why. His experience as a home inspector assured me all his work was beyond reproach and his sense of design assured me that our screened in porch would be more than a covered deck — it would extend our living space and create an outdoor living room that is by far my favorite place in the whole house. He's also responsive via phone and email. I've happily referred Chad to several people, and will continue to do so." – The Walker Family, Hillsborough, NC
"Our experience with Chad Collins has been super! We have gotten overwhelming attention and compliments on our home. We found Mr. Collins to be a very professional person to deal with and his attention to detail was outstanding. Besides making our dreams come true, what we really appreciate and respect is that Chad makes you feel significant." – The Ferguson Family, Hillsborough, NC
"We were told by many folks that building a house was the most difficult thing they had ever done. Not so with Chad! From the beginning he knew exactly what we wanted. He was easy to talk to and stayed in touch often by email, phone, and text messages. Chad's attention to detail kept everyone and everything on tract. The job site was always in pristine condition making it a safe place to work as well as making it easy to see and stay on top of needed supplies. Chad was willing to listen to concerns and make suggestions. If he noticed a problem, he let us know right away and arranged to meet us at the house to work it out. Choosing Chad as our builder was an excellent decision and we would not hesitate to recommend him to anyone." – The Guerry Family, Hillsborough, NC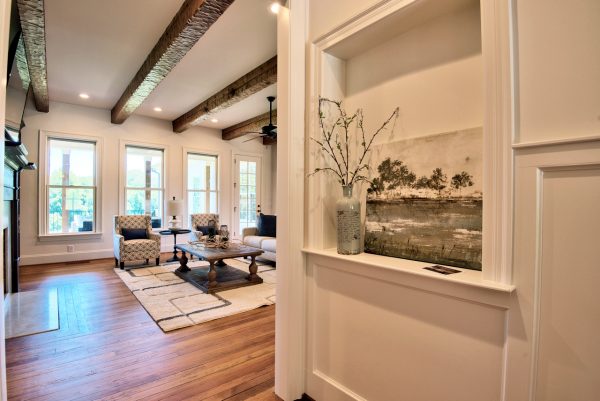 "We were originally hesitant about building a custom house since we had barely any knowledge about home-building. After we visited one of Chad's model homes, we decided to build a similar home. Now, whenever we recall the whole journey, we are very satisfied with our interactions with Chad. He is, in our eyes, a very professional, skillful, and conscientious builder. He is passionate about his job and is willing to patiently work with the family to create a custom home. We respect him as a home-builder and feel very lucky to have him build our dream house!" – The Pi Family, Durham, NC
"Chad is thoughtful, conscientious and caring towards others both personally and in his work life; he is not just a great builder but a great person. Always reliable, Chad sees every project through and never lets his friends, colleagues or clients down." – The Baker Family, Hillsborough, NC
"We could not be happier with our new home. We love it more each day! Thank you so much for a wonderful home." – The Rogers Family, Durham, NC
"Overall, Chad Collins is an outstanding builder of custom homes. He worked closely with us as homeowners to make sure all of our needs were met in a timely fashion. In the end, we had a very high quality custom home built at a tremendous value. No builder in the area provides more home value for the dollar than Chad Collins. I would strongly recommend him to anyone who is considering building a home." – The Norvell Family, Hillsborough, NC
"Relocating our entire family from Connecticut to North Carolina was certainly no easy task. Chad Collins changed that for us and made a world of a difference. He built us a beautiful house with exquisite detail and charm, and we knew instantly it was "our home." It was the work of Collins Design-Build, Inc. that made our journey to North Carolina a positive and refreshing experience. When we first met Chad, we immediately fell in love with his sense of design, quality of work and craftsmanship. His knowledge and expertise in the industry is endless. We knew instantly that we were in good hands with Chad. His professionalism and commitment speaks volumes. The relationship we developed with Chad didn't end upon completion of building our home. To this day, he remains dependable and accessible. Chad continues to make us feel comfortable turning to him for advice and recommendations. It is a true testament of his personable and genuine character that he is so well-known for. We truly value Chad's expertise and opinion, and we highly recommend the services that Collins Design-Build provides. – The Hibbitts Family, Durham, NC
"I LOVE MY NEW HOUSE!!! It's coming along beautifully and I can really tell the difference between production and custom builders. You seem to take considerable pride in what you do, and it shows…THANKS!!" – The Jones Family, Hillsborough, NC
"Thanks for another job well done in a timely, convenient manner." – The Beery Family, Chapel Hill, NC
"In all, as a Builder, Chad was more personable and available than any developers we'd ever experienced in the past. He met intended timelines, provided quality work and valued our position as a buyer. Working with Chad directly made the whole experience more enjoyable and memorable than we had ever anticipated. We'd recommend Chad Collins for anyone who desires a quality home with a personal approach to home building." – The Mostca Family, Durham, NC
If you are searching for a custom home builder in Durham or the surrounding areas please reach out to Chad directly at 919-422-2818. For information on our services, simply contact us or call us at 919-422-2818.