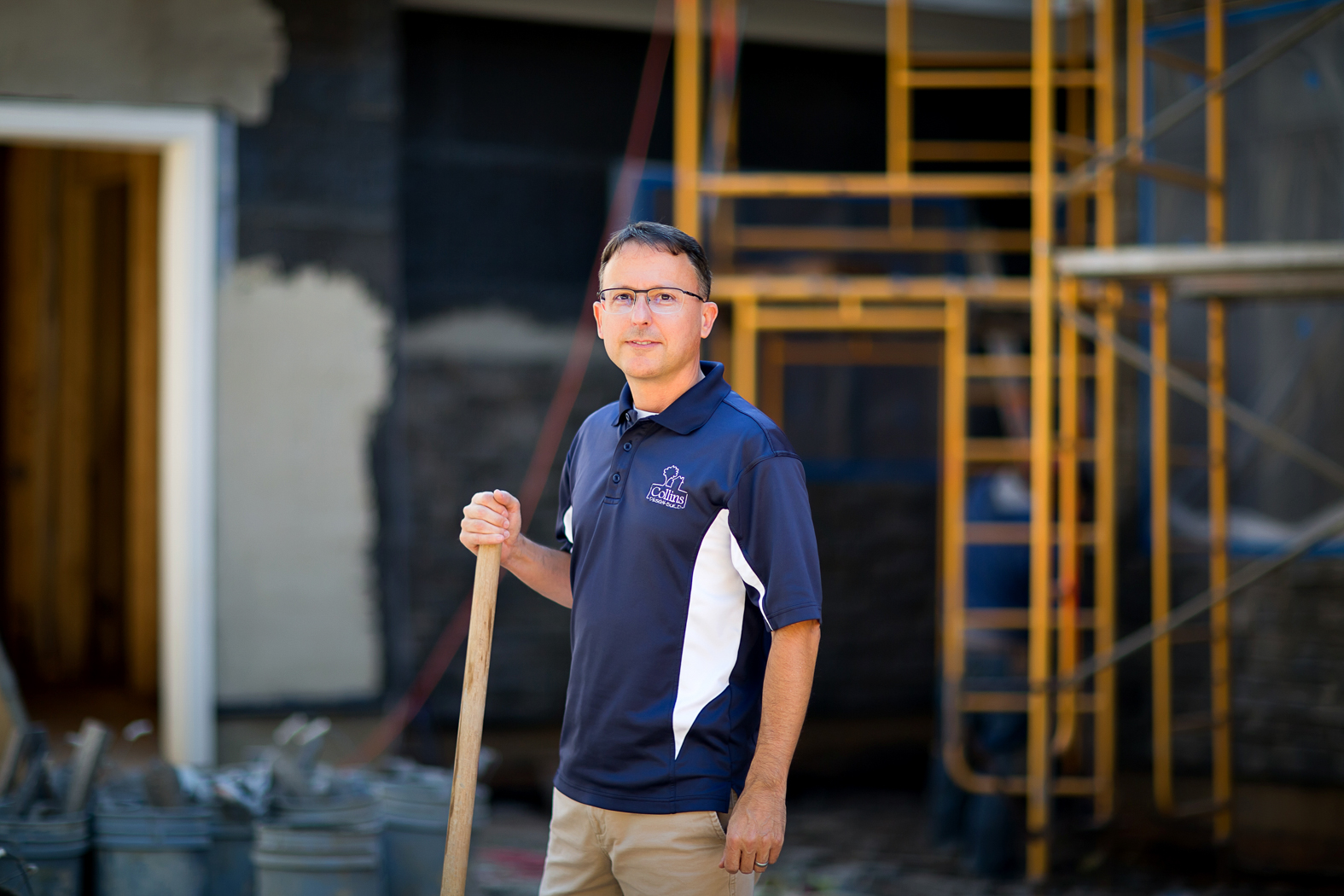 June 13, 2020
Builder In Hillsborough Transforms 70's Home
Builder in Hillsborough NC, Collins Design-Build shares the wonderful moment they transformed a 1970's home into a livable house for their Clients.
As Featured in The Raleigh News & Observer, March 8, by Rebecca Newsome–Constructive Marketing
What started as a conversation about an invasion of carpenter bees into a home's exterior turned into a master builder vision for the house by NC General Contractor Chad Collins of Collins Design-Build, Inc. Marty, the home owner, is now actually grateful for the bee issue, as her home has become immensely more livable!
According to Marty, her 1970's Carrboro home was moved during the following decade to nearby Hillsborough. When Chad toured the property to discuss bee damage, he was greeted by Marty's dog tumbling down the interior staircase. As Chad was invited in, he couldn't help but notice the staircase from which the dog had fallen. The stairs were excessively narrow, with a rise that exceeded current code standards as well as those at the time the home was built. Additionally, the stair treads sported a cupped distortion across their width. In Chad's opinion, these characteristics, paired with their slick pine construction and unusual location in the home, was an accident just waiting to result in significant injury. In fact, Marty said her dog took fairly regular plummets down the staircase. As she pondered when it would be her turn to fall, she joked about installing a nearby phone line so she could call 911 if she took an inadvertent plunge.
As Chad and Marty walked the entire home, Chad recommended general maintenance improvements and offered a simple solution for the exterior bee punctures that Marty could do herself. Chad said that while they had laughed about the phone at the base of the stairs, he felt it was a real concern, as the existing staircase was very unsafe. He learned the stairs were added to the home after it was moved to its current location, at which time a second floor was also added. The stairs were placed in a space they fit; functionality and safety did not seem to be priorities, if even considerations.
Chad suggested a new staircase location that would allow for safety, more width, more usable space upstairs, and compliance with code standards. The existing location was in Marty's bedroom and the center of the bonus room, where it took up a large amount of space. Furthermore, it was dangerous without handrails for support. For anyone with potential mobility, strength, and/or flexibility limitations, the existing staircase was hazardous. A secondary stairway leading to the basement was already in place in another location of the home. Chad knew that a new flight of stairs using the basement staircase as support would be far more space efficient and would also minimize the cost of materials. It would additionally allow for a much needed closet in the first floor bedroom. Marty loved the idea, and once the project was complete, Marty was thrilled with the transformation.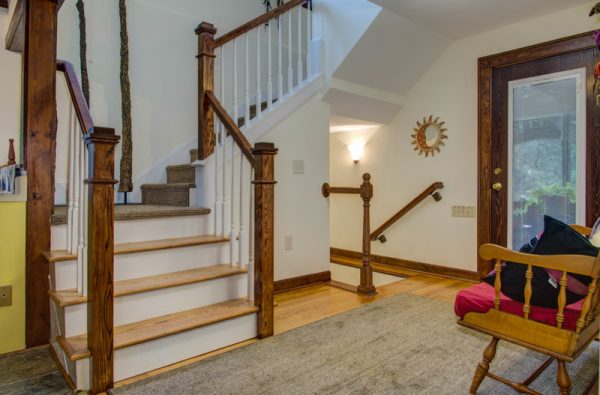 With Chad's extensive experience, he was able to keep Marty's home livable during the renovation process. His goal was to make a minimal negative impact on Marty's existing home while incorporating Aging-In-Place/Universal Design principles and utilizing green, sustainable building products and finishes. Per Marty, Chad did all of this and more.
"Chad used his left brain to work through the technicalities of the remodel, and used his right brain and creative vision to transform my house into a beautiful, artful home," Marty comments. "He looked around and came up with imaginative solutions that made my home much more livable and a place I really enjoy. It was a marvel to see the transformation… I feel fortunate to be the beneficiary of Chad's vision."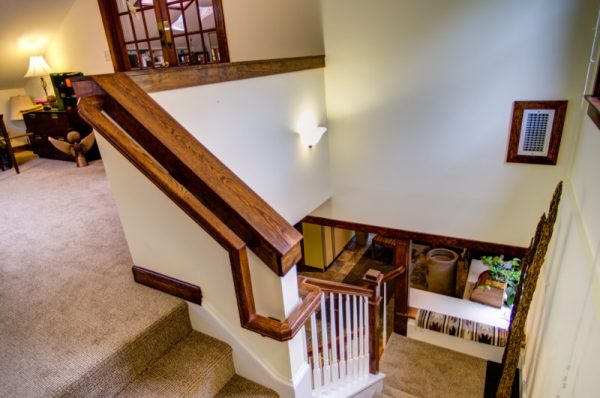 "I use the principles of Universal Design in all of my projects," stated Chad a builder in Hillsborough NC. "They just make sense, for today and for tomorrow. Education is key in Universal Design as well as numerous other areas. I'm proud to say I make industry education a priority. If I wasn't knowledgeable when I met with Marty, her staircase would still be an area of monumental concern. I'm happy I could help her. Every project is exciting and I look forward to each one."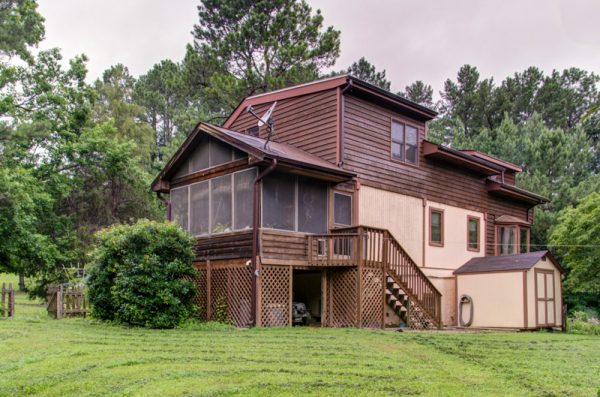 Many baby boomers are finally saying goodbye to their adult children, who are moving out of the house and starting the next chapter in their lives. While some empty nesters are excited about this new phase, it can be a stressful time for others as they deal with this time of transition in their lives.
When your kids move out and you're faced with an empty nest, lots of questions come to mind. Should you move and downsize? If you stay, how should you use the kids' rooms? What other changes should you make as you get older?
If you've made the decision to stay in your home – at least for now – it's time to figure out how your house can work better for you in this the next chapter of your life.
Durham NC Builder, Collins Design-Build notes the following helpful tips:
Focus on Small DIY Jobs
With the kids out of the house, you may be surprised at how much free time you have. Use this time to tackle some of those home renovation jobs that have been on your to-do list for a while.
Before you begin any project, however, look at your house – room by room – with a fresh set of eyes. Now that your house doesn't need to accommodate a growing family, how do you want to use each of the rooms to fit your new lifestyle? Perhaps the mudroom is no longer needed, but a craft room has always been on your wish list. Now you can focus on making those changes.
Create a "Real" Home Office
You may be an empty nester, but you are still a very active member of the workforce.  An extra bedroom or den previously used for family activities would be a great place to turn into a home office.
Home offices are becoming less of a luxury and more of a necessity with more people telecommuting or running their own businesses from their house.
Expand Your Space
Depending on the age of your home, you may find that your master bedroom or bath is too small for comfort.  Expand into space that isn't being used to build the master bath of your dreams or to create a separate seating or dressing area in your bedroom.
Incorporating these changes will not only create a home that suits your new lifestyle, they also may increase the value of your home when you decide to finally sell.
Many empty nesters hire expert remodelers like Durham NC Builder, Collins Design-Build to adapt their home to make it easy to use and maintain. Stairs often become a problem, but moving the master bedroom and the laundry room to the ground floor can be part of a solution that gives home owners many more years in the home they love.
Building professionals like Durham NC Builder, Collins Design-Build who have earned the NAHB's Certified Aging-in-Place Specialist (CAPS) designation have received training on how to build or renovate a home so that the occupants can live in the home safely, independently and comfortably, regardless of their age or ability level.
For more information on remodeling a recently kid-free home, contact us today.
About the Builder: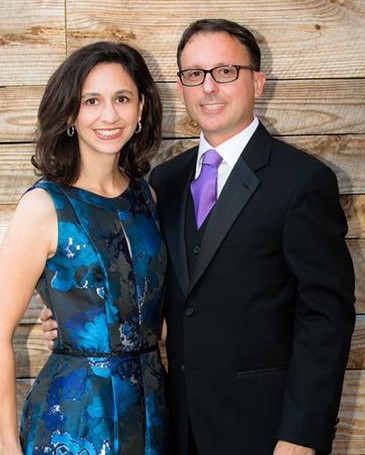 Chad & Emilee Collins
An unlimited licensed general contractor, as well as, a licensed home inspector, Hillsborough NC custom home builder Chad Collins transforms clients' dreams into elegant, fashionable, timeless homes while maintaining a reputation for skilled craftsmanship, superior quality, and incomparable client service. Collins Design-Build is consistently ranked by the Triangle Business Journal as one of the top custom home builders in the Triangle.
Chad's commitment to excellence has earned Collins Design-Build numerous top industry awards, including the National Certified Green Professional Builder of the Year, the Durham, Orange & Chatham Counties Home Builder of the Year, and twice awarded the coveted Triangle Sales and Marketing Council's MAME Building Company of the Year. Chad is one of fewer than 50 Accredited Master Builders in the state of North Carolina.
From the outset of his career, Chad quickly impressed others with his professionalism, integrity, and astute operations management skills. While in high school and college, Chad worked part time with home improvement retailers and building material suppliers, which opened opportunities to work for regional and national home builders throughout much of the 1990s. Chad capitalized on these experiences with local and regional builders to acquire considerable industry knowledge and to forge strong relationships.
Earlier in his career, Chad served as a team leader to local and regional production home builders, distinguishing him by developing processes, tools, and quality-driven teams that improved ROI, cut annual costs, reduced project completion time, and decreased attrition. As a result, Chad advanced increasingly through management positions. Evidence of his talent for coaching and leading teams is that several of his team members and craftsmen he developed relationships with decades ago continue to work with him to this day.
Following that success, Chad was recruited by a national builder opening operations in the Triangle, and he played an important role in helping the company establish operations with a market presence in the region. His efforts in closing over $6,000,000 in custom homes in a single year earned Chad the 2001 Builder of the Year award.
Chad has earned the highest designations available, such as Accredited Master Builder, Master Certified Green Professional, and Aging-in-Place Specialist. Among other industry recognition's, Collins Design-Build has earned multiple Best Green Built Home NCHBA STARS Awards, Major Renovation Awards and the rare Parade of Homes GOLD Perfect Score Award.
Prior to being elected as the President of the Home Builders Association of Durham, Orange & Chatham Counties, serving over 600 members, Chad was nominated to a five-year term with the North Carolina Home Builders Association as Regional Vice President; serving the largest territory region in the nation. Chad was elected as the Board of Directors President of the Hillsborough/Orange County Chamber of Commerce 2019 and 2020 where he led efforts to increase membership by 15% during a pandemic.
Throughout his career, he has served on various boards of directors and has earned numerous top awards for membership recruitment from the Home Builders Association of Durham, Orange, and Chatham Counties; the North Carolina Home Builders Association; the National Association of Home Builders; the Triangle Community Coalition; and the Hillsborough/Orange County Chamber of Commerce. In 2018 North Carolina Governor appointed Chad to the North Carolina Home Inspectors Licensing Board as Treasurer.
Chad is honored to be an approved speaker for the National Association of Home Builders. Chad has written and taught several courses on green building, as well as, project management to fellow general contractors across the Southern United States. He has instructed for Duke University's OLLI Continuing Education Program, serving as the Aging-in-Place Specialist. The North Carolina Licensing Board for General Contractors recognizes Chad as an approved Continuing Education Instructor.
For more information and how Hillsborough NC Collins Design-Build may serve you please connect with us through the following:
Home Building / Remodeling / Additions / Consultations:
Collins Design-Build, Inc.   www.collinsdesignbuild.com
To find a lot or land / Buy or sell existing Real Estate:
Emilee Collins, REALTOR  www.collinsdesignrealty.com
To learn more about Aging In Place or how to make your existing home accessible:
Planning Tomorrow  www.planningtomorrow.com
Have your existing home painted by our award winning professionals:
Acento Painting, LLC  www.acentopainting.com

Chad direct line 919-422-2818  | Chad's Email chad@collinsdesignbuild.com

Tags: Best builder in hillsborough, Best home builder in hillsborough, Builder in Hillsboro, Builder in Hillsborough, Builder in Hillsborough NC


Categorized in: Collins Design Build News, Uncategorized

This post was written by Collins Design Build