June 7, 2020
Chapel Hill Builder Wins Best Renovation Award
According to Chapel Hill home owner, she and husband pondered at length on just what they wanted to do with their 1986 ranch home of just under 1,600 square feet. They loved their location and were certain they wanted to keep their Chapel Hill address, but they greatly needed more space for themselves and their two young children. They discussed the function of the needed space, and computer-savvy husband put their ideas into a plan in a CAD software program.
"Once we had a solid idea of what we wanted, we went online to find a builder." "We contacted three, met with two, and decided on Chad Collins of Collins Design-Build, Inc. Chad was very detailed and comprehensive in the estimate he gave us. He was also very down to earth and approachable. We definitely got the feeling that he would be open to involving us in the building process… We weren't so sure about that with the other builders we talked with."
"I was impressed with the fact that they had given so much thought as to what they wanted," adds Chad. "They showed me the plan they had sketched, which was for an addition of 1,000 square feet. This was almost 40% more living space than they already had. I made some suggestions and took the plan to an engineer to ensure its structural stability. It was an exciting project for me, because they were open to green, sustainable, and accessible practices, and they wanted the addition to blend in with their original home so that neighborhood passers-by wouldn't even realize new space had been added. It was a challenge that I knew I could accomplish well, and also one that I was sure I would enjoy being a part of."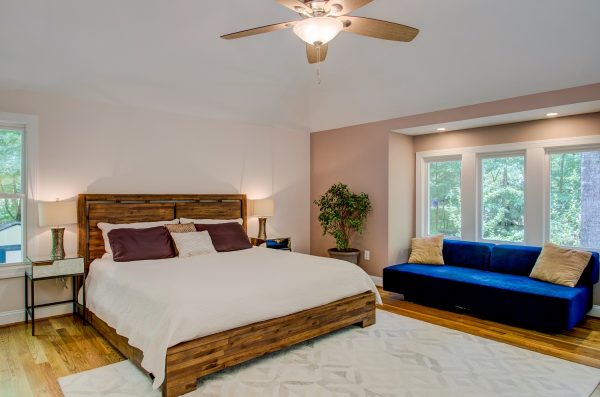 The Collins Design-Build team got started on the project in the Summer and finished in the Fall. The result of their efforts was a lovely new master bedroom with a vaulted ceiling, private sitting area, and a wonderful walk-in closet with built-in cabinetry; a master bath with a separate water closet, a double-headed shower, and stunning tile work; an inviting sunroom; an office nook; and a playroom with a loft for the kids to use as their very own retreat.
"It feels like we doubled our space. We love it!"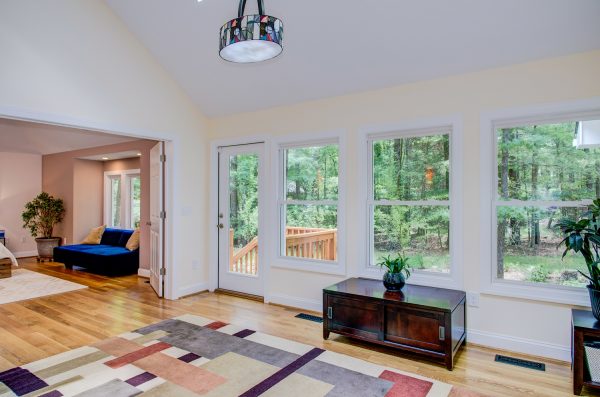 The home owners also loved that Collins Design-Build was so unobtrusive throughout the renovation process. Only one (decaying) tree was removed from the yard and all of the shrubbery surrounding the home stayed intact. Durable fiber cement siding was used on the addition and was also used to replace the existing wood fiber siding, and roofing shingles were installed/replaced with 25-year warranted architectural shingles. These products provided a seamless look to the home's exterior. Inside, the flooring of an existing hallway was replaced with site-finished oak hardwoods to match the ones installed in the new sunroom/office nook/ master bedroom, providing a look of interior continuity.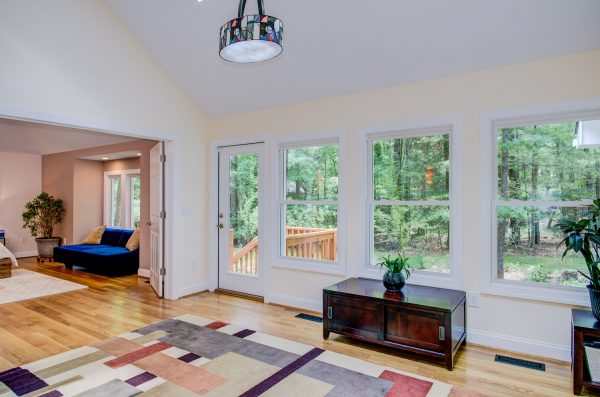 The home's crawlspace and attic were insulated with spray foam and completely sealed by the Collins Design-Build team to make the home as energy efficient as possible while also preventing the development and spread of pollens, allergens, and organic growths throughout the house. Even the support beams used in the addition were green… Engineered i-joists disliked by termites were utilized throughout construction.
"The sustainable products Chad used added higher value, and we're saving money on utility bills as a result of their installation. We wanted a sustainable home and Chad delivered it. We're very pleased, and we absolutely recommend Chad and Collins Design Build."
"My experience allowed me to move smoothly through the Chapel Hill building permit phase and the environmental watershed issues I encountered," says Chad. "Education is key in these arenas as well as numerous other areas. I'm proud to say I make industry education a priority. If I wasn't knowledgeable when I met with them, I wouldn't have been able to make their addition/renovation green, sustainable, and accessible. I'm happy I could help them. Every project is inspiring and I look forward to each one."
Chapel Hill Builder, Collins Design Build wins NCHBA STARS Award:
Collins Design-Build Wins STARS Award for Best Renovation Addition from NCHBA
Raleigh Area Green Custom Home Builder and Remodeler Recognized for Achievement in Remodeling Industry
Chapel Hill Builder Collins Design-Build, Inc. won an award from the North Carolina Home Builders Association of Raleigh, NC. The award was presented earlier this month at the 21st Century Building Expo STARS Award gala at the Omni Charlotte Hotel.
The STARS Awards are a centerpiece of the 21st Century Building Expo and Conference—the premier building expo and conference in the Southeast. Each year, the gala salutes the outstanding professional performance of North Carolina Home Builder Association members spanning from Asheville to Raleigh to Wilmington, with the presentation of the prestigious STARS Awards.
The STARS Awards program honors the achievements of builders, associates, REALTORS®, media and advertising professionals, and many others who make major contributions to the residential home building industry.
Hillsborough REALTOR, Emilee Collins is a great resource when looking for homes for sale in Churton Grove. If you have an existing home and considering an update before selling your home in Churton Grove, here are a few tips when considering doing it yourself or hiring a contractor.
It's fun and inspiring to watch TV shows about home design and remodeling – everything from the latest looks in countertops to whole-house remodels. And YouTube and other online video sites are chock full of helpful how-tos and demos to assist home owners through countless do-it-yourself projects.
There are relatively simple home projects that can be completed by DIYers, such as hanging pictures, interior painting, caulking, and changing door knobs and cabinet pulls. And, home owners with the correct tools and a higher skill level should be able to tackle some aesthetic work such as installing crown molding.
But it's also important to know when to stop and hire a professional.
Remodelers can tell you lots of funny stories about siding installed upside down – and sometimes scary stories involving do-it-yourself electrical wiring gone awry. So before you buy the latest or trendiest gizmo for your home, ask yourself a few questions.
How much do you know?  Replacing the exhaust fan over your oven with a built-in microwave looks like a reasonably simple swap. But if you notice your kitchen lights are dimming when you zap your popcorn, you've probably forgotten that the microwave, unlike the exhaust fan, uses a lot more energy and likely needs a dedicated circuit. A remodeling professional knows that.
What if it doesn't work? That YouTube do-it-yourself video may make a tilework project look doable, but will YouTube give you your money back if you don't lay it straight? Professional remodelers may not know everything, but they do take responsibility for everything they do.
Are there any unintended consequences? In today's increasingly efficient and more air-tight homes, it's more and more important to look at the house as a system. Your new windows are keeping out drafts, but how are they affecting your home's air quality once the "natural ventilation" of the leaky old ones are gone?  Do you need to look at mechanical ventilation systems?  If so, how big? A professional can tell you.
How do you know if it's right for your home? A professional remodeler can advise you on products, finishes and appliances that match your lifestyle, location, house size and budget and help you avoid spending money without a reasonable payback on either resource expense (energy and water, for example) or the sale of your home when you are ready to upsize or downsize.
Looking for homes for sale in Churton Grove contact REALTOR Emilee Collins at www.churtongroverealty.com
About The Builder: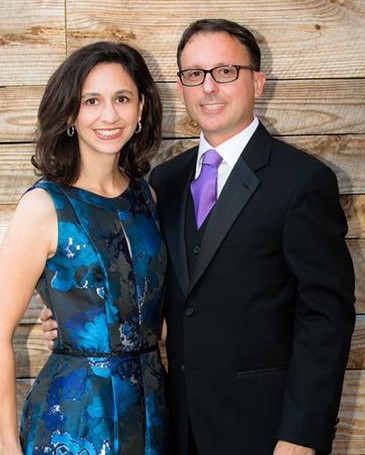 Chad & Emilee Collins
An unlimited licensed general contractor, as well as, a licensed home inspector, Hillsborough NC custom home builder Chad Collins transforms clients' dreams into elegant, fashionable, timeless homes while maintaining a reputation for skilled craftsmanship, superior quality, and incomparable client service. Collins Design-Build is consistently ranked by the Triangle Business Journal as one of the top custom home builders in the Triangle.
Chad's commitment to excellence has earned Collins Design-Build numerous top industry awards, including the National Certified Green Professional Builder of the Year, the Durham, Orange & Chatham Counties Home Builder of the Year, and twice awarded the coveted Triangle Sales and Marketing Council's MAME Building Company of the Year. Chad is one of fewer than 50 Accredited Master Builders in the state of North Carolina.
From the outset of his career, Chad quickly impressed others with his professionalism, integrity, and astute operations management skills. While in high school and college, Chad worked part time with home improvement retailers and building material suppliers, which opened opportunities to work for regional and national home builders throughout much of the 1990s. Chad capitalized on these experiences with local and regional builders to acquire considerable industry knowledge and to forge strong relationships.
Earlier in his career, Chad served as a team leader to local and regional production home builders, distinguishing him by developing processes, tools, and quality-driven teams that improved ROI, cut annual costs, reduced project completion time, and decreased attrition. As a result, Chad advanced increasingly through management positions. Evidence of his talent for coaching and leading teams is that several of his team members and craftsmen he developed relationships with decades ago continue to work with him to this day.
Following that success, Chad was recruited by a national builder opening operations in the Triangle, and he played an important role in helping the company establish operations with a market presence in the region. His efforts in closing over $6,000,000 in custom homes in a single year earned Chad the 2001 Builder of the Year award.
Chad has earned the highest designations available, such as Accredited Master Builder, Master Certified Green Professional, and Aging-in-Place Specialist. Among other industry recognition's, Collins Design-Build has earned multiple Best Green Built Home NCHBA STARS Awards, Major Renovation Awards and the rare Parade of Homes GOLD Perfect Score Award.
Prior to being elected as the President of the Home Builders Association of Durham, Orange & Chatham Counties, serving over 600 members, Chad was nominated to a five-year term with the North Carolina Home Builders Association as Regional Vice President; serving the largest territory region in the nation. Chad was elected as the Board of Directors President of the Hillsborough/Orange County Chamber of Commerce 2019 and 2020 where he led efforts to increase membership by 15% during a pandemic.
Throughout his career, he has served on various boards of directors and has earned numerous top awards for membership recruitment from the Home Builders Association of Durham, Orange, and Chatham Counties; the North Carolina Home Builders Association; the National Association of Home Builders; the Triangle Community Coalition; and the Hillsborough/Orange County Chamber of Commerce. In 2018 North Carolina Governor appointed Chad to the North Carolina Home Inspectors Licensing Board as Treasurer.
Chad is honored to be an approved speaker for the National Association of Home Builders. Chad has written and taught several courses on green building, as well as, project management to fellow general contractors across the Southern United States. He has instructed for Duke University's OLLI Continuing Education Program, serving as the Aging-in-Place Specialist. The North Carolina Licensing Board for General Contractors recognizes Chad as an approved Continuing Education Instructor.
For more information and how Hillsborough NC Collins Design-Build may serve you please connect with us through the following:
Home Building / Remodeling / Additions / Consultations:
Collins Design-Build, Inc.   www.collinsdesignbuild.com
To find a lot or land / Buy or sell existing Real Estate:
Emilee Collins, REALTOR  www.collinsdesignrealty.com
To learn more about Aging In Place or how to make your existing home accessible:
Planning Tomorrow  www.planningtomorrow.com
Have your existing home painted by our award winning professionals:
Acento Painting, LLC  www.acentopainting.com

Chad direct line 919-422-2818  | Chad's Email chad@collinsdesignbuild.com

Tags: best chapel hill builder, Chapel Hill Builder, Chapel Hill Custom Home Builder, Chapel Hill Home Builder, home builder chapel hill


Categorized in: Awards, Collins Design Build News

This post was written by Collins Design Build