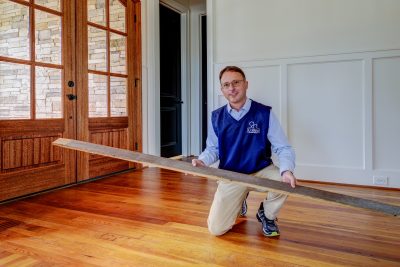 July 28, 2020
Hillsborough Custom Builder | Heartwood Pine
Hillsborough Custom Builder, Chad Collins and the story of how two 100 year old Dairy Farm houses transformed their Modern Farm house design.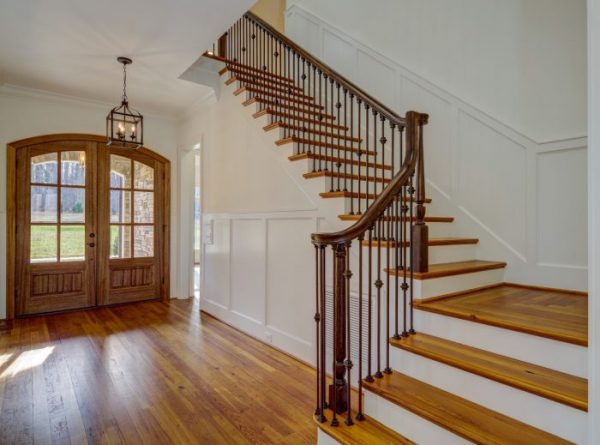 Since 2010 100% of all homes built by Hillsborough Custom Builder, Collins Design-Build, are certified Green by Home Innovations National Green Building Standard. Additionally these homes have met the qualifications of EPA's ENERGY STAR requirements. Chad Collins was honored nationally by the National Association of Home Builders as the Green Professional of the Year. Building green is something we understand. However, experience has no value unless you implement it in new ways.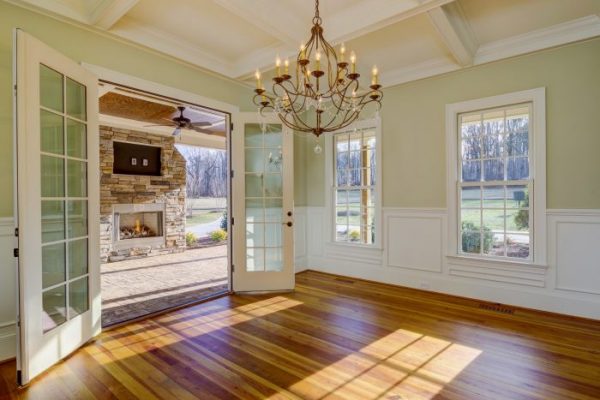 When planning our Modern Farmhouse at Pleasant Green Farms we wanted the feel of a 100 year old home but with today's luxuries. We knew that reclaimed Heartwood Pine flooring would adorn our home perfectly. However, one does not simply run down to the local home improvement store and purchase 100 year old reclaimed heartwood pine.
We became aware of two, nearly identical, 2-story Victorian farm houses, built within the 1870-1900 time period. That were scheduled to be razed. They are both from Halifax Co., VA.  One was the 'old Dallas Farm' in Crystal Hill, Halifax Co., VA, the other was from 'the Hodges Farm' in Nathalie. Both were residences for dairy farmers.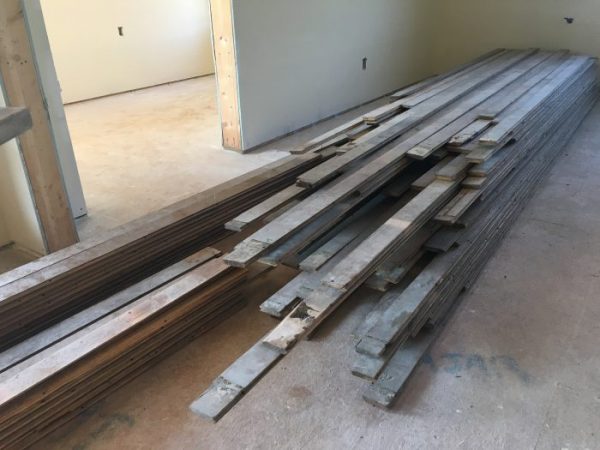 When the heartwood pine flooring arrived to us it looked like you would expect 100 year old flooring to look. It was dusty and showed the scars of rusted nails, linoleum glue, carpet tacks and worm holes.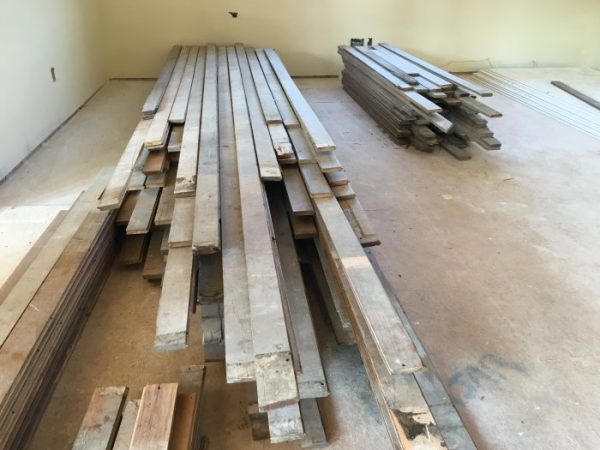 Building a green home is not limited to just high performance components, carbon footprints and renewables. While it is common for new homes have recycled products in them, using reclaimed heartwood pine flooring is a rare. What an honor!
What is Heartwood?
A Pine tree has two basic components: heartwood and sapwood. Heartwood is highly sought after because of its tight grain which produces a more stable and stronger floor. When sapwood sections are used, it may result in a softer floor that can be scratched and dented. The Heartwood strength hardness and comes from its resin, and longleaf has more resin than the other 200+ species of pine.
Longleaf heartwood is beautiful. The grain is not your usual oak pattern and is a shines with a rich, reddish color due to the resin. Using all heartwood means the color should be more consistent.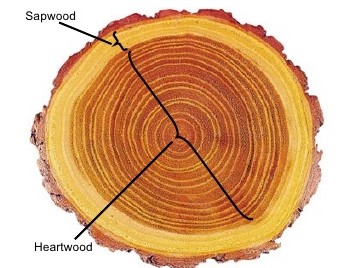 What is the History of Heartwood?
Once the largest continuous forest on the North American continent, the longleaf ecosystem ran along the coastal plain from Virginia's southern tip to eastern Texas. Before the American Revolution, longleaf pine, the source of heart pine, dominated the landscape in the South.
Where there was once approximately 60 million acres, less than 10,000 acres of old growth heart pine remain today. Put another way, what was once 41 percent of the entire landmass of the Deep South now covers less than 2 percent of its original range. The hardwood trees had been growing for centuries, producing only an inch of growth in diameter every thirty years. It takes up to 500 years for heart pine to mature.
As the United States was formed and began to grow and prosper, settlers quickly discovered the immense value of the towering but slender hardwood trees. Because of its strength and durability, heart pine was declared the "King's wood" for shipbuilding when America was first colonized. As settlers moved southward, original growth heart pine was steadily logged and was used for log cabins in the 1700s and 1800s, and later for the construction of fine Victorian homes, hotels and palaces. Heart pine once framed four of every five houses in the Carolinas, Georgia and Florida, floored Thomas Jefferson's Monticello and Washington's Mount Vernon, and buttressed the keel of the USS Constitution ("Old Ironsides").
Heart pine played a key role in the growth and development of the United States as an economic power. As industrial America began to flex its muscles later in the 19th century, heart pine was transported in tall ships made of heart pine up the Eastern seaboard and over to Europe. The Herculean wood provided flooring, joists and paneling for homes and factories, as well as timbers for bridges, warehouses, railroad cars and wharves. Also appreciated for its beauty, it was utilized in Victorian hotels and palaces. Anytime you visit an old building, look around. You are likely to recognize heart pine still hard at work and in excellent condition. (source credit www.heartpine.com/heart-pine-101)
Looking for durable flooring for your pets?
Creating dedicated areas within your home where your pet(s) can eat, sleep and bathe lets them know they are just as much a member of the family as everyone else. A built-in eating area beneath the kitchen counter, a custom napping nook under the stairs, or a washing station in the mud room are popular home improvements that can enhance your pet's comfort as well as your home's value.
But embarking on such remodeling projects — even small ones like these — can cause anxiety for many pets due to the increased noise levels and the unfamiliar faces in the home. That kind of stress can be avoided if you take certain steps to prepare your pet before improvements gets underway.
To help keep your pet calm and safe during a home remodel, consider the following:
Before the Project
Prepare your pet(s) as far in advance as possible by gradually minimizing the amount of time they spend in the soon-to-be project area. Especially if it is a space where they frequently like to eat or sleep, establish a different space within your home where they can temporarily do those activities.
Have the space inspected for mold, asbestos or lead-based paint (homes built before 1978). The presence of any of those things requires the contractor to use specific procedures and special equipment to reduce the risk of exposure and protect your pet's respiratory system.
Anticipate that there will be varying levels of noise during the project. Ask your Builder for advance notice of which days are likely to be the noisiest, and make arrangements to have your pet stay with a friend, family member or at a pet care facility on those days.
During the Project
Introduce your pet(s) to the craftsmen and crew. Whether the project duration is brief or extensive, allowing your pet to become familiar with the workers early on will help alleviate much of their anxiety.
Restrict your pet to other areas of the house away from the project zone — just as you would if there are children in the home. Most projects require the use of tools or materials that could potentially be dangerous if discovered by a pet.
Check throughout the home at the end of each day for any potentially hazardous items. Your Builder will take every precaution to ensure the area is safe and secured, but you know your pet better than anyone and can best identify possible risks. Inform your Builder if you have any concerns or requests about how the project area is secured overnight.
Similar to how you appreciate being informed in advance of and during a remodeling project, your pet will also benefit if you help them prepare and adjust to the temporary change in routine.
If you are looking for ideas to design your home with your pets in mind here are a few ideas:
If you wish to hire a Builder who can help fulfill the vision you have for your pet friendly home, contact contact us today.
About The Builder: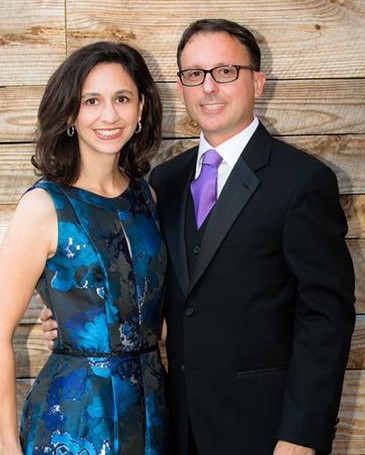 Chad & Emilee Collins
An unlimited licensed general contractor, as well as, a licensed home inspector, Hillsborough NC custom home builder Chad Collins transforms clients' dreams into elegant, fashionable, timeless homes while maintaining a reputation for skilled craftsmanship, superior quality, and incomparable client service. Collins Design-Build is consistently ranked by the Triangle Business Journal as one of the top custom home builders in the Triangle.
Chad's commitment to excellence has earned Collins Design-Build numerous top industry awards, including the National Certified Green Professional Builder of the Year, the Durham, Orange & Chatham Counties Home Builder of the Year, and twice awarded the coveted Triangle Sales and Marketing Council's MAME Building Company of the Year. Chad is one of fewer than 50 Accredited Master Builders in the state of North Carolina.
From the outset of his career, Chad quickly impressed others with his professionalism, integrity, and astute operations management skills. While in high school and college, Chad worked part time with home improvement retailers and building material suppliers, which opened opportunities to work for regional and national home builders throughout much of the 1990s. Chad capitalized on these experiences with local and regional builders to acquire considerable industry knowledge and to forge strong relationships.
Earlier in his career, Chad served as a team leader to local and regional production home builders, distinguishing him by developing processes, tools, and quality-driven teams that improved ROI, cut annual costs, reduced project completion time, and decreased attrition. As a result, Chad advanced increasingly through management positions. Evidence of his talent for coaching and leading teams is that several of his team members and craftsmen he developed relationships with decades ago continue to work with him to this day.
Following that success, Chad was recruited by a national builder opening operations in the Triangle, and he played an important role in helping the company establish operations with a market presence in the region. His efforts in closing over $6,000,000 in custom homes in a single year earned Chad the 2001 Builder of the Year award.
Chad has earned the highest designations available, such as Accredited Master Builder, Master Certified Green Professional, and Aging-in-Place Specialist. Among other industry recognition's, Collins Design-Build has earned multiple Best Green Built Home NCHBA STARS Awards, Major Renovation Awards and the rare Parade of Homes GOLD Perfect Score Award.
Prior to being elected as the President of the Home Builders Association of Durham, Orange & Chatham Counties, serving over 600 members, Chad was nominated to a five-year term with the North Carolina Home Builders Association as Regional Vice President; serving the largest territory region in the nation. Chad was elected as the Board of Directors President of the Hillsborough/Orange County Chamber of Commerce 2019 and 2020 where he led efforts to increase membership by 15% during a pandemic.
Throughout his career, he has served on various boards of directors and has earned numerous top awards for membership recruitment from the Home Builders Association of Durham, Orange, and Chatham Counties; the North Carolina Home Builders Association; the National Association of Home Builders; the Triangle Community Coalition; and the Hillsborough/Orange County Chamber of Commerce. In 2018 North Carolina Governor appointed Chad to the North Carolina Home Inspectors Licensing Board as Treasurer.
Chad is honored to be an approved speaker for the National Association of Home Builders. Chad has written and taught several courses on green building, as well as, project management to fellow general contractors across the Southern United States. He has instructed for Duke University's OLLI Continuing Education Program, serving as the Aging-in-Place Specialist. The North Carolina Licensing Board for General Contractors recognizes Chad as an approved Continuing Education Instructor.
For more information and how Hillsborough NC Collins Design-Build may serve you please connect with us through the following:
Home Building / Remodeling / Additions / Consultations:
Collins Design-Build, Inc.   www.collinsdesignbuild.com
To find a lot or land / Buy or sell existing Real Estate:
Emilee Collins, REALTOR  www.collinsdesignrealty.com
To learn more about Aging In Place or how to make your existing home accessible:
Planning Tomorrow  www.planningtomorrow.com
Have your existing home painted by our award winning professionals:
Acento Painting, LLC  www.acentopainting.com

Chad direct line 919-422-2818  | Chad's Email chad@collinsdesignbuild.com

Tags: Hillsborough Custom Builder, Home Builder Hillsborough NC, Reclaimed heartwood pine flooring


Categorized in: Collins Design Build News

This post was written by Collins Design Build