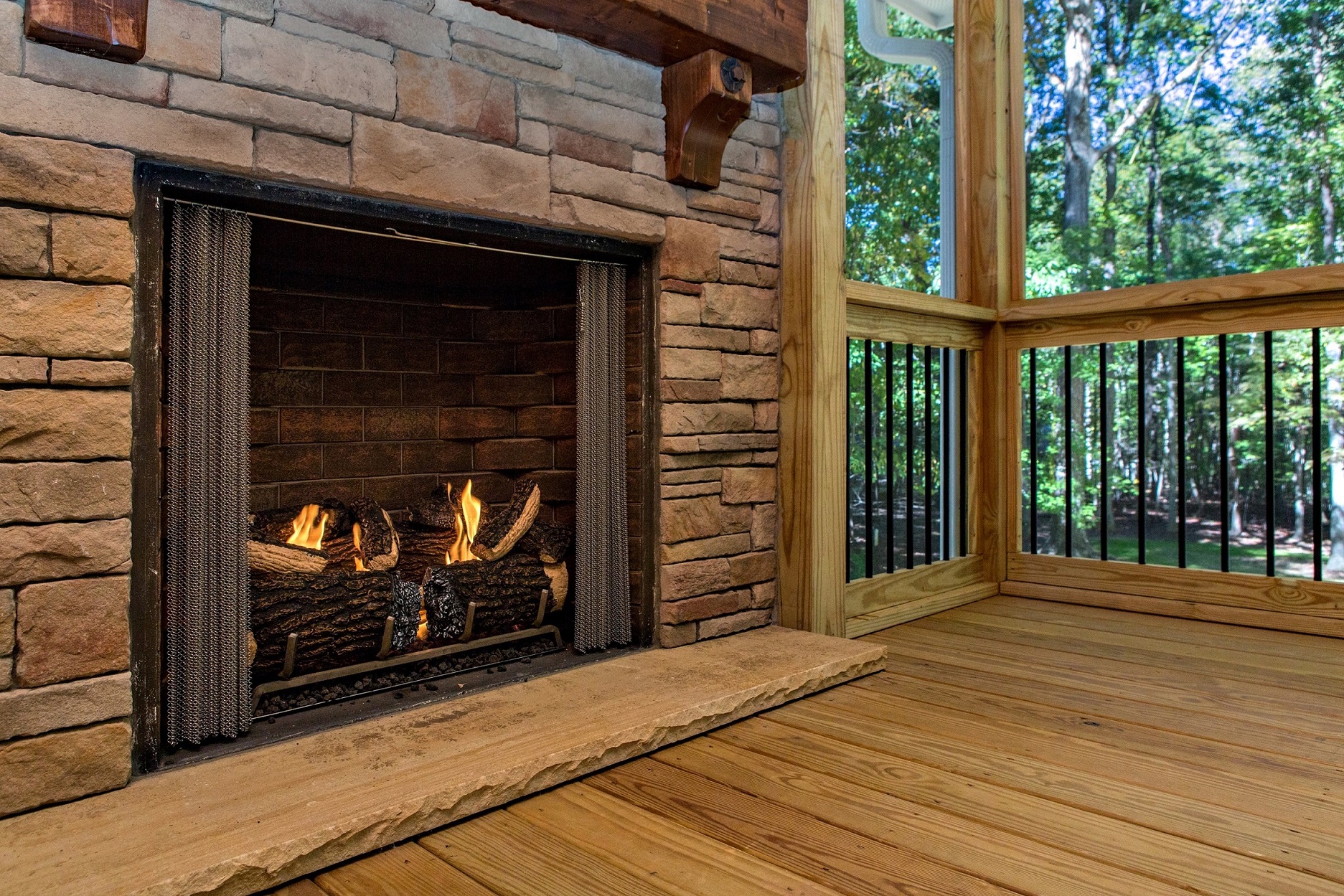 June 13, 2020
Hillsborough NC Builder Voted 1st Place Peoples Choice
Hillsborough NC Builder, Collins Design-Build Voted 1st Place in Peoples Choice at The Annual HBADOC ROC Awards Banquet.
The Remodelers Outstanding Construction Awards (ROC) celebrates the amazing remodeling projects the Home Builders Association Of Durham, Orange & Chatham members completed in Durham, Orange and Chatham Counties. The competition is open to all projects completed within the past year in categories such as Kitchen, Bath, Addition, Outdoor Living, and Whole House.
Hillsborough NC Builder, Collins Design-Build Voted 1st Place Peoples Choice for their Screen Porch Addition in Hillsborough NC.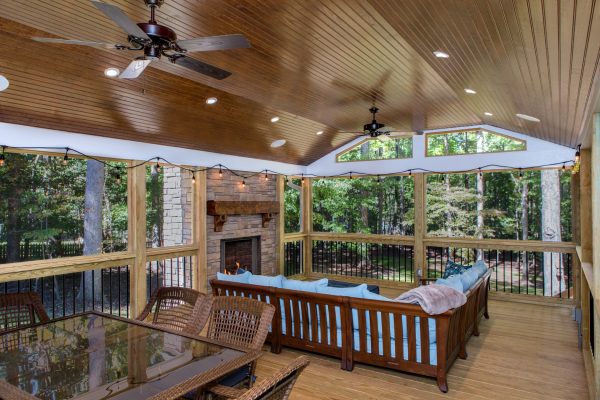 To stay put or to move on?
Hillsborough NC – After your home ages twenty years it needs a little love. The shingles are usually at the end of their respective life cycle, the clapboard siding is well overdue for a fresh coat paint and you reach the crossroads of do you make the investment and stay or sell and move on.
Our Hillsborough NC clients reached this exact crossroad. They loved their home and their location. They struggled with what would be best for their growing family's needs. Then "Grandma" moved in down the street and installed a pool in her backyard. Having a Mother/Mother-In-Law down the street with a pool is a game changer. Let's stay put!
We knew we needed new shingles, fresh paint, odds and ends like landscape pruning and normal maintenance repairs but we wanted more outdoor living space as well. A screened in porch large enough to eat and lounge with a fireplace that actually emits warmth; something cozy that's inviting to relax.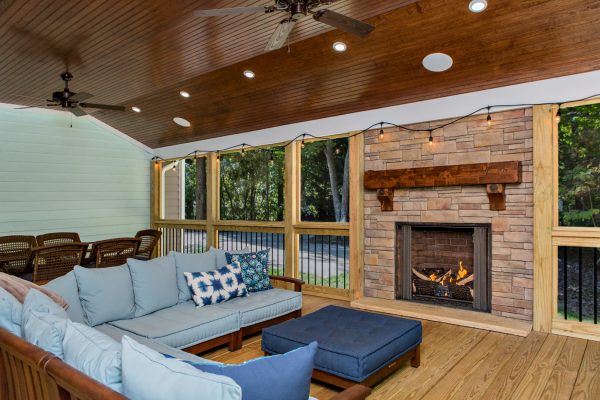 Got to have a separate grilling deck area but we need to repurpose an existing window into a fully accessible door. The hot tub would be create less of a challenge if we had installed voltage lighting to border our barefooted evening run back into the home on brisk nights.
No outdoor living space is complete without a stamped concrete patio bordered by a fire pit.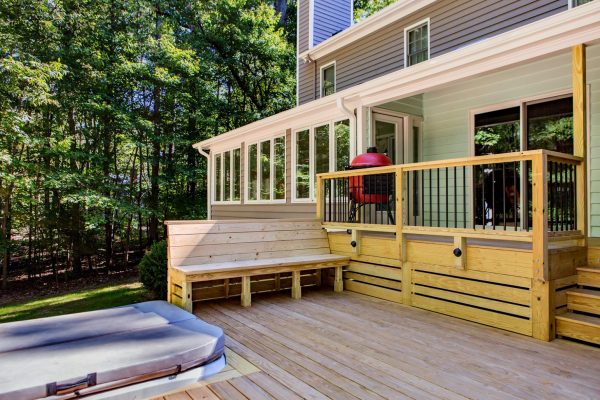 State of the art speakers, LED lighting, ENERGY STAR ceiling fans, Natural Gas fireplace, low voltage stair lighting, COX pressure treated lumber, stain grade tongue & Groove ceilings, Skylights, name brand Deckorator Balusters and Collins Design-Build signature TechShield radiant barrier roof sheathing this screen porch is the flagship of the neighborhood.
Stay put!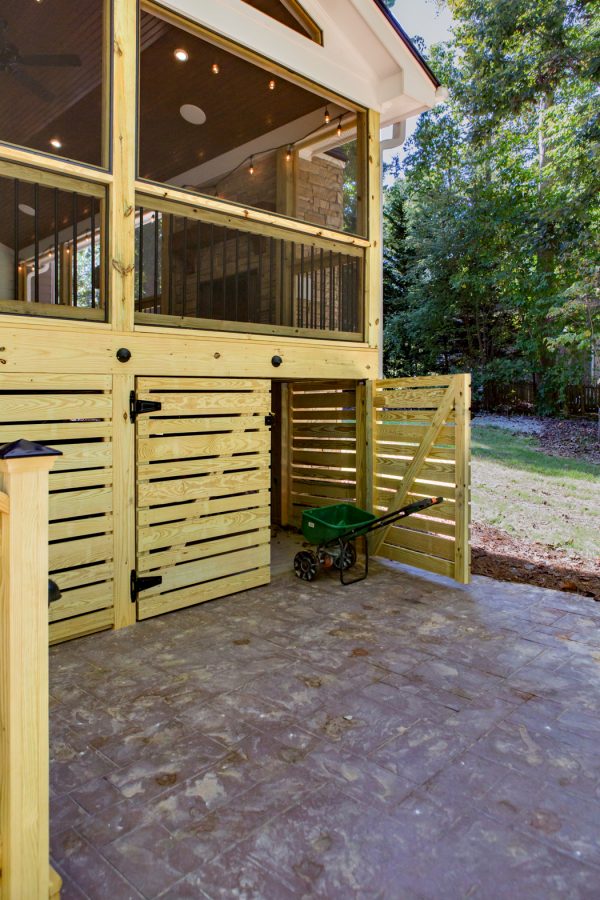 To see more, please visit: our remodeling photo gallery
Hillsborough NC Builder, Collins Design-Build offers remodeling services and consultation In Hillsborough NC and surrounding Counties.
When you think of making home improvements, the interior and exterior of your home may get the most focus. But there is also a lot of potentially great living space just outside your door. Hillsborough NC Home Builder Collins Design-Build offers a few ways to make your back (or front) yard a seamless extension of your home for entertaining and enjoying the days and evenings of summer, fall and beyond.
Outdoor Living and Dining Rooms, Kitchens
It's becoming more common to see cushioned chairs, benches and tables arranged on a separated patio or adjoining the home, often under an awning or roof but still very much in the open air of your backyard. Start off on the right foot with a properly installed and graded patio of stone or concrete and you can enjoy meals or just have a comfortable place to relax with friends and family. Some go further and create an outdoor kitchen complete with a grill, sink, refrigerator, and countertop and storage space, often built right into a patio's stonework. Be sure to buy furniture, rugs and accessories that have been designed for outdoor or outdoor/indoor use.
Fire Pits and Fireplaces
Another more recent trend is having a skilled professional install a freestanding brick or stone fireplace near a seating or entertaining area in your backyard. It can create a sense of privacy while still leaving you out in nature, as well as provide a welcome glow and warmth into the fall months. Likewise, fire pits can be permanently installed to provide a safe, appealing glow to your outdoor gathering.
Patios and Walkways
Is your backyard patio a square or rectangular slab of concrete? Think outside the box, as the saying goes, and expand or replace that drab slab with a rounded or flowing contoured patio. There are many options to choose from, and even the least expensive materials like concrete have come a long way with varied textures, visual appeal and durability. Add a meandering walkway through a garden space and beyond to draw your backyard, landscaping and patio area together into an inviting, cohesive living space.
Stone Gardens
Rocks may be an unwelcome site when you are installing fence posts or digging a patio or a hole to place a plant, but don't toss them away just yet. Stones can add color and texture to a garden, and larger rocks can create their own unique focal point. Add new dimension to your backyard with stones large or small. Think of it this way — you'll never have to water them!
Pergolas and Outdoor Lighting
Break up, instead of block out, the daylight sun with wooden structures like pergolas to bring some welcome shade without creating a barrier between you and the outdoors you are enjoying. At night, these same structures can feature lighting elements designed specifically for outdoor use to add a subtle but helpful glow in the evening. Lighting can also be put to great use along your patio and walkways, providing a lit space for safety and appeal without taking away from the night-time ambiance.
Installing elements like these into your home's outdoor space is a great way to expand the enjoyment of your home. But don't be shy to contact Hillsborough NC Home Builder Collins Design-Build. We have the necessary expertise to help you with your project. When it comes to permanent and more costly fixtures such as fireplaces, patios and walkways, and even outdoor kitchens, they will work better, be safer and last longer when properly installed.
About the Builder: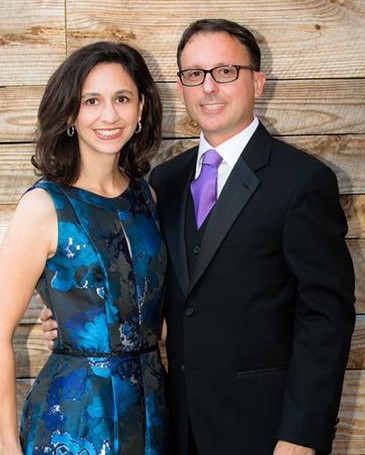 Chad & Emilee Collins
An unlimited licensed general contractor, as well as, a licensed home inspector, Hillsborough NC custom home builder Chad Collins transforms clients' dreams into elegant, fashionable, timeless homes while maintaining a reputation for skilled craftsmanship, superior quality, and incomparable client service. Collins Design-Build is consistently ranked by the Triangle Business Journal as one of the top custom home builders in the Triangle.
Chad's commitment to excellence has earned Collins Design-Build numerous top industry awards, including the National Certified Green Professional Builder of the Year, the Durham, Orange & Chatham Counties Home Builder of the Year, and twice awarded the coveted Triangle Sales and Marketing Council's MAME Building Company of the Year. Chad is one of fewer than 50 Accredited Master Builders in the state of North Carolina.
From the outset of his career, Chad quickly impressed others with his professionalism, integrity, and astute operations management skills. While in high school and college, Chad worked part time with home improvement retailers and building material suppliers, which opened opportunities to work for regional and national home builders throughout much of the 1990s. Chad capitalized on these experiences with local and regional builders to acquire considerable industry knowledge and to forge strong relationships.
Earlier in his career, Chad served as a team leader to local and regional production home builders, distinguishing him by developing processes, tools, and quality-driven teams that improved ROI, cut annual costs, reduced project completion time, and decreased attrition. As a result, Chad advanced increasingly through management positions. Evidence of his talent for coaching and leading teams is that several of his team members and craftsmen he developed relationships with decades ago continue to work with him to this day.
Following that success, Chad was recruited by a national builder opening operations in the Triangle, and he played an important role in helping the company establish operations with a market presence in the region. His efforts in closing over $6,000,000 in custom homes in a single year earned Chad the 2001 Builder of the Year award.
Chad has earned the highest designations available, such as Accredited Master Builder, Master Certified Green Professional, and Aging-in-Place Specialist. Among other industry recognition's, Collins Design-Build has earned multiple Best Green Built Home NCHBA STARS Awards, Major Renovation Awards and the rare Parade of Homes GOLD Perfect Score Award.
Prior to being elected as the President of the Home Builders Association of Durham, Orange & Chatham Counties, serving over 600 members, Chad was nominated to a five-year term with the North Carolina Home Builders Association as Regional Vice President; serving the largest territory region in the nation. Chad was elected as the Board of Directors President of the Hillsborough/Orange County Chamber of Commerce 2019 and 2020 where he led efforts to increase membership by 15% during a pandemic.
Throughout his career, he has served on various boards of directors and has earned numerous top awards for membership recruitment from the Home Builders Association of Durham, Orange, and Chatham Counties; the North Carolina Home Builders Association; the National Association of Home Builders; the Triangle Community Coalition; and the Hillsborough/Orange County Chamber of Commerce. In 2018 North Carolina Governor appointed Chad to the North Carolina Home Inspectors Licensing Board as Treasurer.
Chad is honored to be an approved speaker for the National Association of Home Builders. Chad has written and taught several courses on green building, as well as, project management to fellow general contractors across the Southern United States. He has instructed for Duke University's OLLI Continuing Education Program, serving as the Aging-in-Place Specialist. The North Carolina Licensing Board for General Contractors recognizes Chad as an approved Continuing Education Instructor.
For more information and how Hillsborough NC Collins Design-Build may serve you please connect with us through the following:
Home Building / Remodeling / Additions / Consultations:
Collins Design-Build, Inc.   www.collinsdesignbuild.com
To find a lot or land / Buy or sell existing Real Estate:
Emilee Collins, REALTOR  www.collinsdesignrealty.com
To learn more about Aging In Place or how to make your existing home accessible:
Planning Tomorrow  www.planningtomorrow.com
Have your existing home painted by our award winning professionals:
Acento Painting, LLC  www.acentopainting.com

Chad direct line 919-422-2818  | Chad's Email chad@collinsdesignbuild.com

Tags: Hillsborough Builder, Hillsborough NC Builder, home builder in hillsborough


Categorized in: Awards, Collins Design Build News

This post was written by Collins Design Build